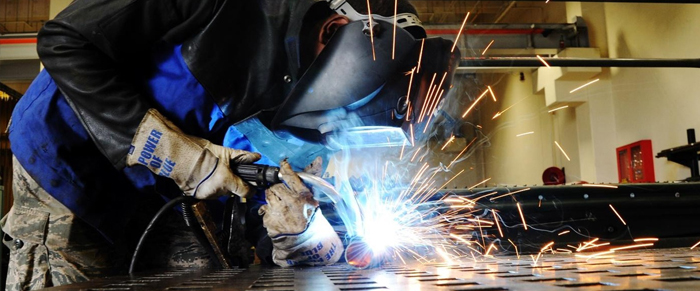 Spectrum along with its partners has recognized the benefits of being able to provide machining and manufacturing of its own products. Therefore we have invested much into modernizing and upgrading our facilities and assets. It is an on-going process.
Steel Fabrication: Working closely with our Mechanical Engineers and Project Management staff and with the support of Spectrum's fabrication yards and workshops, our crews undertake modifications, repairs and upgrades to the highest possible industry standards and on time.
With the combined floor space of our different Machining & Fabrication Yards, Spectrum comprises of 80,000 square feet of facilities that are divided into drilling equipment repair workshops, fabrication yards, engine workshops, management office and storage cum ware housing areas.
Our workforce is highly motivated and committed to producing work to the highest quality standard. Our personnel receive incentives which are based upon the quality not the quantity of the work they produce.
Lathe
Hydraulic Test bench
Floor Boring
Grinder
Milling
Shaper
Boring
Radial and Magnetic Base Drill
Hydraulic Press
Hydraulic Puller Jack
Welding and Cutting
Pneumatic test facility
Pattern making – Moulding, Core making, Melting, Fettling and Testing
Overhead Cranes
Standard measuring equipments:- Portable Surface Finish Tester, Vernier Caliper, Micrometer, Gauges
We possess In-house Testing facilities capable of carrying out the following:
Pressure Test (Oil) – 10,000 PSI
Pressure Test (Water) – 10,000 PSI
Non – Destructive Testing (MPI, DP, UT, etc.)
We possess Sand blasting and Painting yard @ 1000 sq. feet. We offer our warehouses for stocking purposes to our Clients.