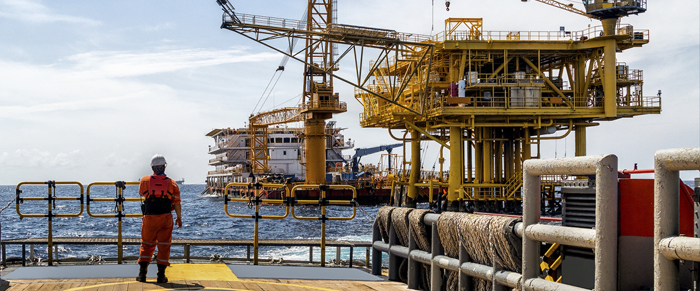 Spectrum Offshore & Onshore Services is one of the leading companies in the field of offshore rig and land rig refurbishment, Oilfield drilling equipment fabrication, repair, overhaul and modification for Petroleum, Petrochemical and Natural gas industries. Our services extend to cover drilling equipment and associated parts supply/rental and the supply, overhaul and repair of industrial diesel engines.
Being located on the West Coast of India, Spectrum is geographically central to the region and therefore stategically positioned to service the needs of Drilling contractors operating in the Middle East and South East Asia.
Spectrum Offshore & Onshore has achieved an impeccable record of oilfield equipment refurbishment. Consistently producing work of the highest quality in a timely and cost effective manner.
We are managed by industry professionals whose collective experience provides our clients with a unique level of service, offering specialist support 24x7 all year.
Along with the network of our partners around the world and their established competencies we offer the following Core services

Global marketing of assets including Jack-up Rigs, Semi-submersibles and Drillships.
Integrated services.
Provision of preventive maintenance services.
Jack-up Rigs - Refurbishment, Upgrade, Modification and Engineering Supports.
Land Rigs - Supply, Refurbishment, Upgrade, new build rig up and commissioning etc.
Overhaul and Repair of Jacking Systems and Offshore Cranes with associated spares supply.
Overhaul, Repair and Supply of drilling equipment and spares- Drawworks, Crown Blocks, Travelling Blocks, Swivels, Spectrum Drives, Rotary Tables, Mud Pump, Elmagco Brakes etc. as per API and
OEM specifications.
Manufacture, overhaul/repair and modification of BOP Control Unit as per API 16D spec.
Zero hour overhaul/rebuild and repair of Caterpillar, Cummins or any other Engines.
Manufacture and overhaul/repair of Cementing Units, Batch Mixers, Frac Units etc.
Fabrication and repair of complete mud systems with required solid control equipment and
associated components.
Inspection and repair of derrick/mast, sub-structure etc.as per API 4F/RP4G categories.
On-site Service - offshore and Onshore Inspection and Repairs.